Preparing for the 'Big Move'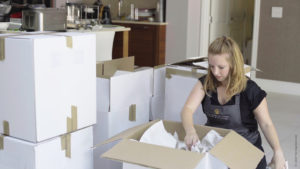 With Easter on its way, so is the stressful task of moving house in time for summer. At The Organisers we understand that we all can accumulate a lot over the years and everyone needs a little help to declutter that space or prepare themselves for the 'Big Move'. This need for a helping hand is where The Organisers HomeMaker comes in with our highly qualified HomeMakers team taking the stress off of your shoulders and taking charge in the packing and unpacking process. Our HomeMakers can get your new house looking like a home in just a matter of days.
We also offer other services to help you get your house in order for the summer. This can include anything from an overall end of tenancy cleaning of the house by a fully vetted supplier, a housekeeper to help you get your house in order and maybe even create your grocery list for the week and keep your cupboards fully stocked.
Whatever the need, our HomeMakers can fix it. Find out more about The Organisers HomeMaker® service here or contact our Managing Director Katie Shapley on homemaker@theorganisers.com or +44 (0)207 078 7554