BE THANKFUL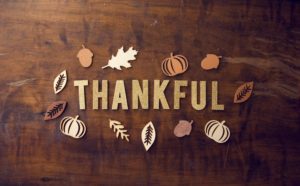 The fourth Thursday of every November sees the American National Holiday of Thanksgiving. This year it falls on 28th November. The tradition of being thankful for the harvest and other blessings of the past year is rooted in English traditions dating from the Protestant Reformation. Nowadays, the Macys Thanksgiving Parade in New York with its annual pageant of giant balloons, floats, cheerleaders, clowns and marching bands is viewed by millions before American's settle down to their traditional Turkey dinner and American football.
Are you planning on celebrating Thanksgiving? The Organisers can plan you a traditional day of celebration- we can source you staff to prepare the house, cook the dinner and serve your guests; attend to your table dressing and centrepieces and find the perfect tokens of appreciation for your guests.
If you need a helping hand, do not hesitate to contact us. Contact The Managing Director Katie Shapley or a member of The Organisers Staff & Recruitment team on +44 (0) 20 7078 755 or staff@theorganisers.com to discuss.
Photo by Pro Church Media on Unsplash